Last week we assembled some horrific Dark Eldar Wracks. Now no respectable haemonculus would dare send these into the webway without looking appropriately evil and dark. Now I don't know about you but all that gray is not exactly terror inducing. Okay, enough talk, let's paint.
Pre-step 1: Paint it Black
Prime the models black and if you wish before you prime, go ahead and put a layer of modeling sand down for basing purposes (this is what I prefer).

Step 1: Skin
Wracks spend most of their time in the lightless obliettes of the hamonculi, so their skin should be appropriately pallid and gross. So I'll start with a layer of astronomicon grey, then follow up with a leviathan purple wash. When that dries completely give it a drybrush of astronomicon grey and then follow up with a drybrush of skull white.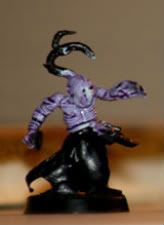 Step 2: Clothes
Dark Eldar are not known for wearing brightly colored clothes, wracks are no exception. For the wracks that are wearing robes and trousers we are going to make those into dark leather clothing items. Go ahead and start with painting them chaos black. When that dries give it a very light drybrush of codex gray, you might need to do this a few times to get the highlights to show.
For the wracks that are also wearing aprons, start with a deneb stone basecoat, then give a delvan mud wash. After that dries follow up with a bleached bone drybrush.

Step 3: Metal Bits
Now for the weapons and the mask. Paint those boltgun metal. Let that dry completely then apply washes of badab black until they look appropriately greasy and sinister. After your washes dry give them a quick drybrush of mithril silver to bring out the highlights.

Step 4: Bone Growth
My idea behind how I painted the bone growths is that I would blend from the skin tone to a bone color (bleached bone and deneb stone work great) and blend my way up to black to represent all of the alchemical abuse these guys endure under the service of the haemonculi.

Step 5: Details… Details…
Get creative! Grab some purple and some dark red. Using a really fine brush go in and make some veins here and there. Be sure to base your model as well! Get some brown and darker red to make blood splatters on the aprons and masks and sparingly on the weapons. As with any detail don't go overboard, too many details can make your model look busy and messy. A few well-placed blood splatters will be far more effective than coating your model in gore.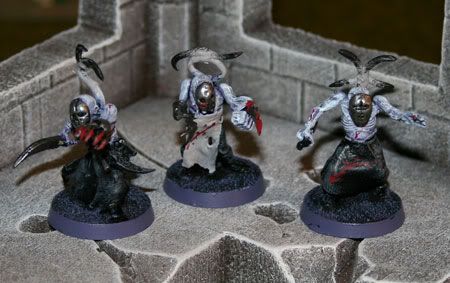 Next time: Locomotives on Legs: My Encounter with Warmachine MKII
-Kevin